To properly respond to the consequences of COVID-19, the City Manager proclaimed the existence of a local emergency in the City of Gardena on Monday, March 16, 2020. The City Council ratified the proclamation on Thursday, March 19, 2020.
Gardena Reopening Guildelines
The City of Gardena has developed Reopening Guidelines that align with State and LA County regulations to provide our community with a comprehensive framework to steadily reopen with necessary adaptations.
On March 5, 2021, the State added a vaccine equity metric to the Blueprint for a Safer Economy.  LA County is now in the least restrictive Yellow Tier, allowing additional business sectors to reopen indoor operations or increase operational capacity. 
The Health Officer Order has been revised and is effective May 6, 2021.  For more details, please visit the Business Resource Portal.
COVID-19 Vaccination Planning
As of April 15, 2021, all individuals 16 years of age and older who live or work in LA County are eligible for vaccination. To be vaccinated, you will need to show:
Photo ID, and
Proof that you live or work in LA County, and
Proof that you are 16 years of age or older.
Minors age 16 and 17 are only eligible for the Pfizer vaccine and must be accompanied by a parent or guardian. Examples of acceptable documents can be found here.
To book an appointment, visit VaccinateLACounty.com. Please be advised that appointment availability is limited due LA County's limited supply of doses.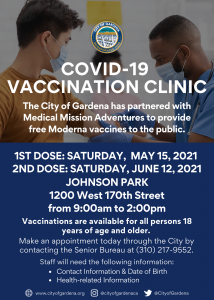 Centers for Disease Control and Prevention:

County of Los Angeles Public Health: