Our Helping Hands Holiday Program is an annual event that allows Gardena residents experiencing financial hardships to receive food vouchers and toys for the holiday season. Individuals, seniors and families are allowed to register for the event to brighten their holiday season!
Helping Hands is an excellent way to get involved with our community.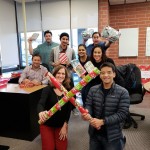 Helping Hands brings the gift of giving and unity- along with a bundle of holiday gifts - to families in Gardena. If you are interested in donating to our program you may call (310) 217-9574 or send donations to:
City of Gardena
Human Services Division
c/o Helping Hands
1651 W. 162nd Street
Gardena, CA, 90247
For more information, please contact the Human Services Division at (310) 217-9574 or E-mail: helpinghands@cityofgardena.org. Please follow Gardena Events of Facebook and Instagram for event updates.